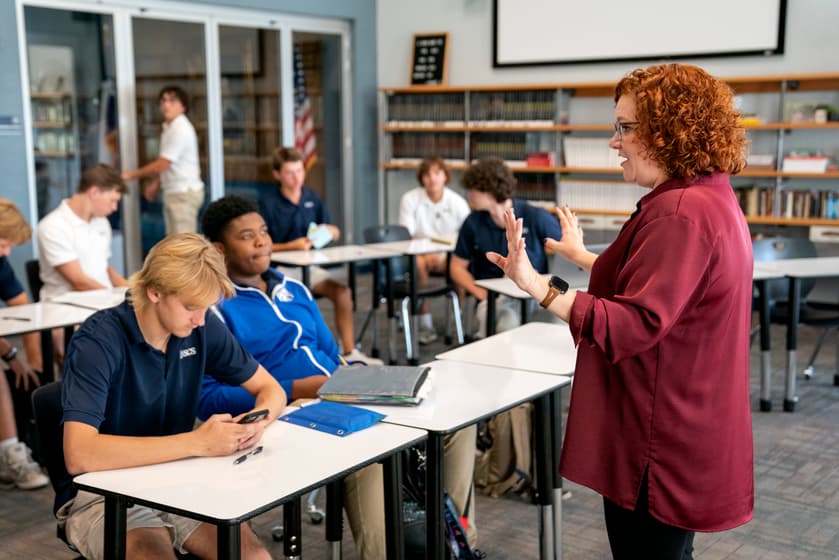 Christ-Centered Education
Southwest Christian School is a college preparatory school committed to providing a rigorous, research-based core curriculum coupled with extracurricular opportunities that will prepare students for successful college careers. Our faculty and staff are devout believers who are constantly growing in their faith and infuse scripture and Christian worldview truth in the classroom.
Beginning with our early childhood curriculum and continuing through the senior year of studies, our programming is systematically aligned with state and national standards. Content and course offerings are reviewed on a three-year cycle to ensure that instruction is most current and relevant to college-bound students' needs.
Academics
SCS strives to transform the lives of others.
We are proud of our students' academic successes and acceptances to competitive colleges and universities each year. We celebrate our athletic championships, and we are honored by our recognition and awards in the arts. In all of these achievements, however, we remain focused on our Christ-centeredness. Through this lens, we consider the kind of individuals we are trying to nurture, the kind of society we want to create, and the kind of world understanding we want to build. We are in the business of transforming lives for the glory of God.

Academic Supports
SCS seeks to champion the strengths of your student.
SCS is pleased to put accommodations in place for students who have a diagnosed learning difference. In order to create an education plan, a current (within three years) diagnostic report from a licensed education diagnostician or psychologist is required.

Learn more
Technology
SCS strategically integrates technology into the classroom.
As technology continues to evolve and develop, SCS is committed to keeping pace to ensure that our students graduate with the knowledge and skills they need to be successful in college and beyond.
Learn more